Shelley (Owner/MT)
Shelley graduated the Denver School of Massage Therapy in August 2016.  She has a passion for healing the whole person as she was a paramedic for 20 years. Continuing her education and branching out into massage has allowed her to structure each massage to help individuals reach the goals of living pain free. She uses her knowledge and skills to tailor each session to address dysfunction from improper body alignment or injury to get back to balance and move forward. She uses education and direction to keep clients engaged in their healing journey.

Pamela (MT)
Pamela moved to Colorado in 2008 and has never looked back.  She studied at the Denver School of Massage Therapy and joined the Bodyworks team in February 2015.  She has a passion for Medical Rehabilitation, Muscle Dysfunction, Prenatal and Myofascial disorders. Pamela uses all her knowledge to provide the healing your body needs.

Missy (MT)
Melissa "Missy"  graduated from Colorado School of Healing Arts in 2007. She received my AOS degree specializing in Sports Massage, Prenatal Massage, and Deep Tissue Massage . Her average massage is medium to deep/firm relaxation pressure with heavy long, slow strokes and stretches that extend the muscle fibers. Missy enjoys helping people with areas that are tight and need to be worked out. She only works part time because she loves what she does!

Amy (MT)

Amy was born and raised in New Mexico but has lived in Colorado for over 30 years.  She graduated from the Colorado School of Arts in 2003 and specializes in deep tissue and reflexology.  I love doing massage because it's nurturing. Self care is something we don't often make enough time for. I also love seeing my clients have reduced pain after a session. Amy is married and has a son.  In her  spare time she enjoys cooking, gardening, traveling, and keeping fit.
Jeremy (MT)
Jeremy is an integrative massage therapist, specializing in deep tissue and injury recovery technique. His style is unique, with minor influence of Esalen, Bhakti, Reiki and the Craniosacral techniques. He also has a major influence with Myofascial, Swedish, Sports Massage, Neuromuscular Techniques and Quantum-Touch. He has developed and refined some of his own techniques over the years, such as Active Release and Subscapular Release. These both frequently yield significant relief in his clientele with acute issues, and is most commonly what they request. He is extremely knowledgeable of deep muscular anatomy, and most of the time, he will focus on such areas. His work is amazingly suited for clientele who prefer releasing chronically-ischemic tissues, such as consistent tension or scar tissue. It complements Chiropractic adjustments, and other whole-body wellness practices.
Faith (MT)
Her mission is to assist clients in reducing pain, increase joint mobility and muscle flexibility through massage as well as other body movement therapies. As a licensed massage therapist she brings over 12 years of hands-on bodywork experience. With her basic training, she assists the body to a relaxed state. Couple that with various certifications in evidence based massage as well as special populations, she is able to address more complex issues related to injury, scar tissue and/or stage of life. she believes that our bodies are best equipped to heal themselves through the support and alignment of both western and eastern medical practices. she sees it as a privilege to be a part of your healthcare and wellness team.

Ruthay (Reiki Master)
Ruthay has been a Reiki Master and Teacher since 1999. She has taught and attuned many people in the ensuing years. She enjoys sharing the experience of Reiki with her clients and students.  Reiki is a form of energy hands on approach. Energy is drawn from the universe and sent from the hands to the client to help heal every aspect of life. It is a holistic system with its origins in Eastern traditions.

Allison MSc L.Ac HBCE CBC (Acupuncture)
Allison studied at the School of Traditional Chinese Medicine and earned her Master's of Science in Traditional Chinese Medicine. Allison is a board certified and licensed practitioner. She started her career as an EMT, fell in love with helping people and wanted to provide more. This is where Allison found Chinese Medicine, an ancient holistic healing concept. In furthering her career, Allison became a HypnoBirthing Childbirth educator and lactation counselor to offer further aid to the community. Although Allison focuses on sports health, pediatrics, and fertility/pregnancy support, her practice  helps in the treatment of an array of heath problems such as pain, auto-immune disorders, and neurological problems, among many other needs. for Booking please visit: https://lightdarkacu.janeapp.com/locations/light-dark-acupuncture-littleton/book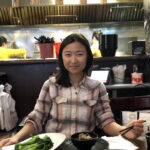 Carol (Quantum Wellness)
My health problems began when I was 15. I experienced many auto-immune symptoms including skin rashes, joint pain, chest pain from lung inflammation, hair loss, fatigue, Reynaud's disease, indigestion, food allergies, lack of lung capacity, and abnormal Antinuclear Antibodies. My condition worsened with stress. 

For the next few decades I visited numerous doctors, specialists, holistic doctors, Reiki practitioners, Traditional Chinese Medicine doctors, rheumatologists, dermatologists, hair treatment centers, acupuncturists ,and energy healers to find relief. Some seemed to help more than others, but none could actually resolve my issues. When my child was born, I had a renewed desire to find solutions for my health so I could be healthy for my child.  I met a wellness consultant not long after the birth of my child.  Out of desperation I decided to give him a try. After one session and following through with all his recommendations in that session, I felt like a completely new person. Best I have felt in forever. Many of my issues went away and I felt healthy and happy. My self-esteem improved. As you may know, long lasting illness affects your self-esteem. Since then I have taken my child to my wellness consultant and also referred my friends to him with amazing results. Eventually I decided it was time for me to bring the fruits of my wellness journey to others. I have since been mentored by this wellness consultant who is a Master Practitioner and also trained under Dr. Roy Curtin who invented this machine and technology.

Yogi (nutrients)
Yogi St. Germain is a Holistic practitioner and juice therapist based in Parker, Colorado. She believes in the transformative power of a healthy lifestyle and is passionate about sharing her knowledge and expertise with others. My programs are designed to help women achieve a long-term sustainable healthy lifestyle by incorporating daily juice, nutrition, fitness, and mindset affirmations so that they feel more confident, beat the hormone dilemma, and live a long-lasting life. for more info please scan the QR code below